The earliest reference to an oyster fishery at Cheyney Rock dates back to 20 November 1657. The largest oyster merchant in the world, a Mr. Alston, once lived & had his main fishery here! The Cheyney Rock House was its headquarters: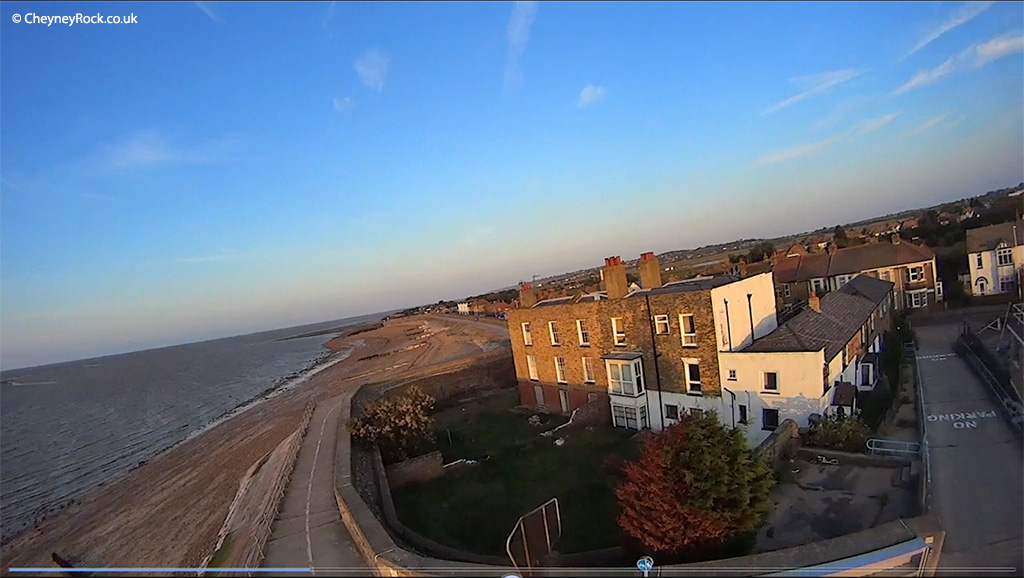 Note: a bushel is a container (36.37 litres) that could hold around 500 oysters1.
From 'A topographical dictionary of England' (1840):
"Messrs. Alston, the spirited owners of Cheyney Rock oyster fisheries, are occupiers under Lady Wenman of the West Grounds and Lapwell. Although in private hands, the number of persons employed is great, and the liberal manner in which the fisheries are carried on adds materially to the prosperity of the town. The oysters sent to London market from these fisheries are not wholly produced here, but are generally bought at other places and deposited in these grounds until they arrive at a proper state of maturity, when they are dredged up and sent to the London market, under the well-known name of "Milton Natives". There is another description of oysters, called common oysters, inferior in flavour and price. The Native Oysters, however, are esteemed the finest and best-flavoured of any in Europe: they are supposed to be the same that Juvenal particularly describes in his 4th satire as being reckoned a delicacy even in his time."
From 'The London Quarterly Review' (1854):
"Mr. Alston, who is, without doubt, the largest oyster-fisher in the world, sent up last year between 40,000 and 50,000 bushels from his fishery Cheyney Rock, near Sheerness."
From 'A handbook for travellers in Kent and Sussex' (1858):
"The oyster fisheries of the Cheyney Rock, which stretch along opposite Minster, are very extensive, and of no small celebrity. Their farmer, Mr. Alston, has sent to London in a single season more than 50,000 bushels of "natives" from this single fishery."
From 'London Society' (1863):
"…some large beds belong to private growers—notably to Mr. Alston, who is the very Rothschild of oyster-fishers, and sends to London annually, from his 'farm' at Cheyney Rock, between 45,000 and 50,000 bushels"
From 'The Cornhill Magazine' (1865):
"There are several other oyster companies that carry on business in the estuary of the Thames. There is for instance the company of the burghers of Queensborough which is as strictly regulated as that of Whitstable and which produces the fine Milton oysters. We may also mention the Faversham Company which claims to be the most ancient of all the Thames companies it has existed for many centuries. Then there are many gentlemen who own private beds and carry on a large business. Mr Alston a London oyster merchant has always from forty to fifty vessels engaged in the trade. These ships vary from small dredging vessels of eight or ten tons to carrying ships of thirty forty or fifty tons according as they are employed on the home banks or in voyages to Ireland or the Channel Islands."
From 'A handbook for travellers in Kent and Sussex by R.J. King' (1868):
"Milton (pop. 2731), famous for its oysters, which no doubt shared in Koman favour with those "Kutupino edita fundo" (see Ete. 4), or rather, perhaps, ranked themselves as Butupians. The fisheries were granted by King John to the Abbot of Faversham, in whose hands they remained until the Dissolution. They have been dredged from the earliest times by a company of fishermen, ruled like those of Faversham by certain ancient customs and bye-laws. "Milton natives" bear the bell, or more properly are the pearls, among British oysters; and since the discovery of the great sea-beds off Shoreham their value has materially increased, owing to the comparative coarseness and more plentiful supply of the latter. The dredgers work under farmers of the fisheries, the principal of whom until recently was the late Mr. Alston, of Cheyney-rock House, Sheppey, the possessor of very extensive beds between Sheerness and Whitstable, and no doubt the greatest "oyster-farmer" in the world."
From 'Dickens' Dictionary of the Thames' (1883):
"The Sheppey oyster fishery is of considerable importance, and its head-quarters are at Cheyney Rock House."
From 'Fishermen from the Kentish Shore by Derek Coombe' (1989):
"In 1799 William Alston of Rochester 'butcher and cow-keeper' bought, with a John Payne, the Manor of Minster. Eight years later Alston sold the Manor except for the fishery rights of the foreshore between Garrison Point and Scrapsgate and the Cheney Rock oyster beds. The business administered from Cheney Rock House, continued right up to the 1880s. Alston's fleet of dredging smacks was apparently based in the Medway and Swale and their shellfish were carried to the London market by smacks and hoys. The fleet included large craft capable of undertaking the deep-sea dredging in the Channel which included natural beds from Dunkirk and Varne right down to Jersey. Although the heyday of this oyster and scallop free-for-all was over by the 1890s (Olsen's The Fisherman's Nautical Almanac of 1885 lists just one Alston smack at Rochester, the James (RR 258)), a small dwindling Channel scallop fishery persisted up to World War II."
Links:
18th Century Disputes in the Manor of Minster:
View a paper written by and copyright Margaret Alston – 18th_Century_Disputes_in_the_Manor_of_Minster (PDF)
Many thanks to R. Alston for allowing this to be reproduced on this site.
Notes:
The Gaff Rig Handbook: History, Design, Techniques, Developments by John Leather, 2004 – "Cutter rigged smacks sailed from the Medway where Alston's oyster dredgers brought home Channel oysters before they moved to Leigh-on-Sea.  Small oyster dredging cutters worked from Whitstable and the Swale, generally resembling the Colne smacks but were fuller bottomed to take the hard foreshore which served their harbour. They set a generous rig but could easily be distinguished from the Essexmen by their square, boxy counters and the large ports cut in the bulwarks to shovel the oyster shell and culch overboard."
Some of the boats registered to D. T. Alston:

| | | | | | |
| --- | --- | --- | --- | --- | --- |
| Name | Port registered | Official No. | Signal flags | Reg. ton. | Source |
| Adder | London | 9725 | KJNG | 45 | MNL1867 |
| Alice | Rochester | 9522 | KHQS | 49 | MNL1867 |
| Amity | Rochester | 9664 | KJGF | 30 | MNL1867 |
| Emma | Rochester | 29433 | QFPD | 22 | MNL1867 |
| Ellen | Rochester | – | KHQT | 46 | MNL1867 |
| Emerald | Rochester | 6339 | JNKP | 28 | MNL 1867 |
| Henry and Elizabeth | Rochester | 28540 | PWTM | 29 | MNL1867 |
| James | Rochester | 9665 | KJCH | 21 | MNL1867 |
1883:
From 'Black's guide to Kent', 1883: "Messrs. Gann and Austen cultivate a large oyster-farm at Cheyney Rock, on the coast".
Misc:
Post Office Directory, 1851: 'Bryant Rev. George, Cheyney Rock house, Sheerness'
Post Office Directory, 1855: 'Alston David Thomas, oyster merchant, Cheyney Rock house'.
Previous owners:
From 'Isle of Sheppey' (S. Judge), 1984:
"Among the borough records of 1452 there is an order referring to William Cheyne – 'no one shall drag any oysters from William Cheyne's Fleet in Ward in Holfleet on pain of six shillings and eight pence.' " / "William Cheyne evidently valued his oysters and would not tolerate any poaching. His oyster beds stretched from a point at sea roughly opposite Marine Parade, along to the Scrapsgate Road. There is still a point off the coast there called Cheyney Rock."
1 Source: Archaeologia Cantiana Vol.LXXX 1965, Oyster Fisheries on the North Kent coast – "in 1572 they cost 4d. per hundred, some 500 going to a bushel."